Current public relations trends rely strongly on digital media due to the exponential growth of the scope of online business marketing in the last decade. The digital revolution has visibly altered the course of the communications industry in the last decade.
Let's have a look at various public relations trends, development, and future potential.
Current State of the PR Industry
Ever since the growth of influencer marketing and native content branding, the focus on traditional public relations activities dwindled a bit, which is the opposite of what this 2016 Gartner report says that organisations continue to spend money on public relations activities.
On the other spectrum, there is a visible growth in the number of online businesses establishing their in-house public relations department.
According to the Association of National Advertisers survey, there is a 62% chance that external public relations agencies might become defunct due to this development.
Only around 21% of public relations agencies directly report to marketing departments.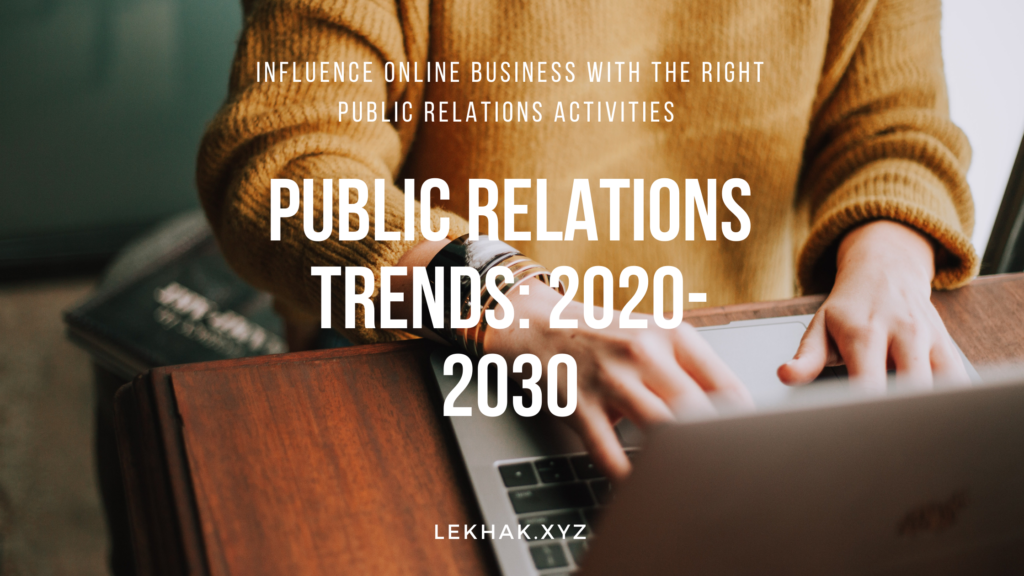 Public Relations Trends, Developments, and Future
It is worth evaluating the role of public relations agencies in the near and far future.
A study done by the Center for Public Relations at USC Annenberg says that earned media will decline in the next five years and that the revenue of public relations agencies due to paid or shared media will increase.
There will be an increase in aggressive content marketing, which can be successful only in the hands of experienced and astute public relations professionals and agencies. There will come a time when the content consumer will be unable to distinguish between earned and paid media, leading to an explosive growth of branded content, social advertising, content amplification and influencer relations.
Here are some public relations trends that are worth noticing and remembering.
We, at Lekhak, offer international public relation liaising for enhancing brand visibility. Reach out to us with a brief about your next project.
#1 Data Amplification
Over the last decade, the public relations industry has become data-oriented.
As the Internet evolved and opened unlimited online business channels, it became feasible to collect huge datasets and analyse them for strategising public relations tactics.
Getting to know the target audience and using the data for marketing benefit through customized content is the stronghold of the public relations industry.
#2 Expanding Skillsets
Public relations activities are not limited to generating paid media partnerships any longer.
A successful public relations professional is one who dons many skills such as event planning, writing, wielding content marketing strategy and being a social media whiz.
This indicates the blurring of the paid and earned media lines.
#3 Death of Press Releases
The times were wonderful when the easiest and effective way to conduct a basic public relations campaign was to write and distribute press releases to interested journalists who would then choose and write about the press release context and publish it in newspapers.
It helped companies grab interest, but slowly, publishing press releases online have dwindled as Google reduced the importance previously granted to press releases via backlinks and traffic.
In fact, publishing the same press release on multiple channels can be penalised for content duplication.
#4 Thought Leadership
Significant growth is visible in thought leadership with top executives of big corporations writing and publishing thought leadership pieces on popular mediums like LinkedIn, Bloomberg, New York Times, Huffington Post, and others.
Thought leadership is a personal form of branding, and public relations channels are working overtime to solicit publication opportunities. Thought leadership content helps to build trust with the audience and get their attention.
The published pieces can be pushed to the content marketing pipeline by sharing them via email newsletters, videos, blog posts, and infographics.
#5 Content Amplification
As much as it is important to create thought-provoking and engaging content, equally important is its marketing, and this is where amplified content leaves its mark.
It will be the responsibility of the public relations agency to amplify the paid or earned media through channels like social platforms. LinkedIn sponsored updates, Twitter promoted tweets, Facebook promoted posts, and Google AdWords are some of the recommended methods for content amplification.
Asking industry influencers to share published content pieces gives it authenticity and credibility.
#6 Personalized Outreach
Even though associated with the word public, public relations have become personal. Public relations campaigns depend on personalised outreach now.
Mass emailing does not work; in fact, they are considered spammy. It is necessary to build relationships with media house editors and reporters to get the content published quicker.
Mass pitches are passé. Tools like Prospect.io and Saleshandy.com help to identify media prospects and send personalised emails.
#7 Visuals
Every minute, 500 hours of videos are uploaded on YouTube alone.
An average viewer watches around 16 hours of videos per week, and with accurate content creation and marketing, it is possible to increase the number of videos watched by every viewer.
Videos are relatable and generate higher engagement value as compared to textual content, giving public relations professionals more reason to include videos in their brand campaigns.
The ROI from videos are easily measurable through various analytics software such as YouTube has its own data analytics dashboard.
#8 Mixed Reality
The lines between real and unreal have blurred.
Experiential marketing is far becoming popular in creating immersive brand experiences. Check out this campaign in Malaysia where the Fox channel created an amazing immersive brand experience for its viewers.
2020-2030 decade is for connected millennials and realizing the same, companies need to invest in upcoming and unique technological experiences.
Endnote
A great public relations campaign is all about storytelling, and these futuristic public relations trends are responsible for creating an all-inclusive brand experience.
There is a need for seasoned and professional public relations agencies who identify with growing digital media changes and are willing to adopt them.