Content marketing is the art of creating brand stories that influence the buyer personas. In the last few years, content marketing has become an audience outreach forefront for digital public relations agencies.
All the blog posts, webinars, infographics, and tweets are a part of modern day digital public relations. New age entrepreneurs are absorbing and adapting to this marketing technique for business growth.
By creating and sharing bite-sized interactive content online, brands not only spread brand awareness but set themselves as the market leaders.
Also read: A 360-Degree Content Marketing Plan Online Business Needs to Prosper
The Current Digital Public Relations Market
With the increasing growth of digital public relations and content marketing activities, every business is moving online for branding and commercialization.
The Internet is overloaded with business content that includes advertising, branding and sales pitch.
However, content marketers often forget to realise involvement is crucial. Establishing empathy leads to relationship building with the customer, which eventually assists in converting leads into sales.
Digital media is a platform to gain knowledge and experience. When content marketers try to sell readers online, through their blog posts, presentations and tweets, they do understand that being interactive and communicative with potential clients gives a better opportunity to be the industry leader.
Interactive content is more data driven and attractive.
It is not as difficult as it sounds, you can easily change your existing one-way content into a two-way interactive communication method.
According to a survey by Content Marketing Institute, 53% of content marketers are using interactive content as a primary marketing tool.
What is Interactive Content?
Interactive content is the future of businesses going online and gives readers a unique experience using content display channels such as GIFs, quizzes, interactive infographics, games, whitepapers, and polls.
The primary difference between traditional content marketing and interactive content marketing is when the users can interact with you and do not feel sold to. Interactive content creates a stand-alone experience and persuades your client.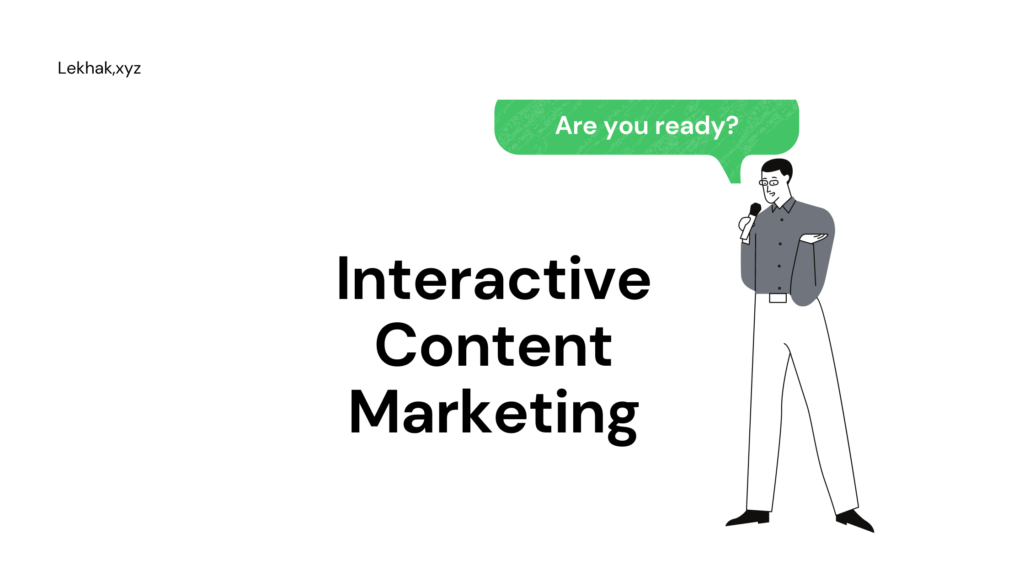 What is the Impact of Interactive Content Marketing?
Here are some pointers.
#1 Helps you earn your prospect's attention
The only way to gain a prospect's attention is product packaging and fulfilling the prospect's demand.
Each customer is different and to give them what they need, you first need to understand their problems.
A mobile app that gives them a solution based on their choices or a quiz that shows the results based on their selections are some examples of interactive content marketing.
#2 Keeps them connected and involved
Active participation always feels better than being a passive onlooker. Make your audiences feel important by interacting with them through your content. You will successfully retain their interest in the product or service.
Describing the qualities of the product and educating the customers through blogs and whitepapers is not enough.
Interactive marketing is an expansive universe. Give them a reason to know why your product is best for them. A uniquely refined product, specially crafted to solve specific problems, will offer you a strong client base.
With interactive infographics and interesting quizzes, your audiences feel more connected, and you can easily influence a buyer's journey.
#3 It leaves a never-ending impact
The level of competition is exceptionally high in the digital marketing era. Traditional blog posts, white papers, and social media posts fail in creating a long-lasting effect on your prospect's mind.
However, even when delivered through the above platforms, interactive content creates an interactive journey where the target audience remains interested enough to engage with the product or service.
For example, interactive infographics is a better choice than a great blog post. People feel engaged and involved when immersed in storytelling. Remember, helping someone is better than selling someone if you are looking for long-term clients.
#4 It eliminates web noise
You are not the only one trying to create a distinct online identity. Potential buyers, who are frequently online, get advertisements and marketing blogs thrown towards them with emails, tweets and messages.
Interactive content marketing sets you apart from the crowd and helps you get the required attention from your prospects.
Endnote
Interactive content is a powerful strategy in the field of content marketing. To stay on the top and make maximum profit out of your efforts, you need to understand the importance of interactive content marketing.
Be a savvy marketer and establish a wider reach with interactive content marketing in the world of digital public relations.