Content marketing is booming.
The future of content is more, not less. The content marketing industry is speculated to cross $417 billion during 2021-2025, as evident in Content Marketing Market by Objective, Platform, End-user, and Geography – Forecast and Analysis 2021-2025 report by Technavio.
The importance of native content marketing increased with the growing trend of Internet users blocking ads on their devices, making it difficult for businesses to reach any audience segment with traditional forms of online advertising.
Initiating a content marketing plan is challenging without the suitable investment in content marketing tools.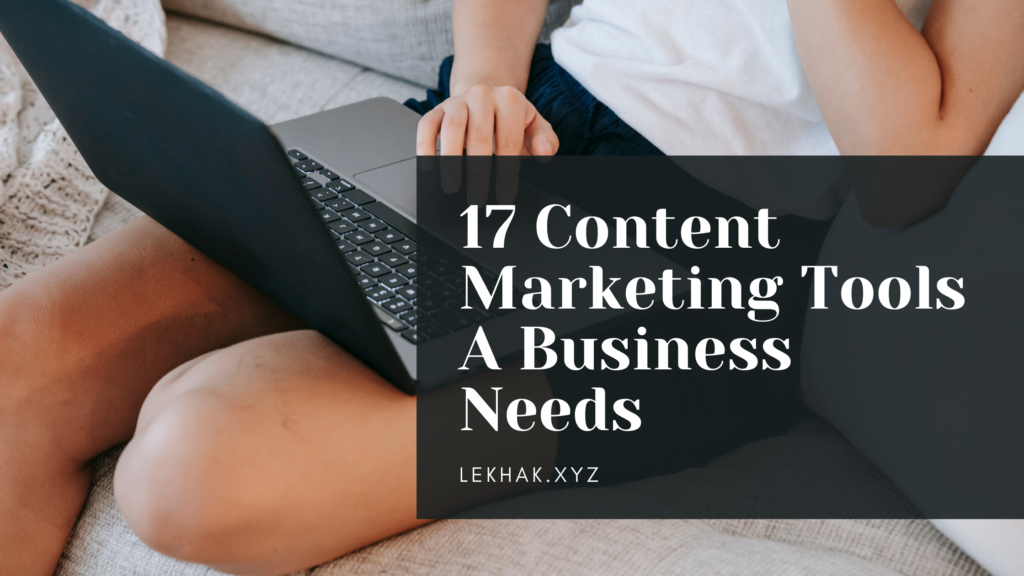 Affordable Content Marketing Tools for Businesses
The blog presents a curated list of content marketing tools helpful for even a startup with limited financial resources.
We, at Lekhak, craft written content spanning various verticals, lend our voice repository for voiceover and dubbing, and offer international public relation liaising for enhancing brand visibility. Reach out to us with a brief about your next project.
#1 Copify
Copify is an on-demand content generation platform.
If a business doesn't have "writing" as a skillset and doesn't want to invest in an in-house team, Copify helps in researching, drafting, editing and designing publishable content.
It writes quality and impressive content as they have a rigorous qualification process for copywriters.
#2 BuzzSumo
BuzzSumo offers analytics-driven insights to find out influencers in an industrial niche. It reveals the social stats and trending content of influencers based on your search terms.
It helps to understand performing content and helps to discover blogs or channels where a business can advertise and generate revenues.
#3 HubSpot
It is one of the highly recommended content marketing tools for inbound marketing.
The HubSpot tool contains loads of methods for running sales and marketing campaigns, analysing landing pages, and monitoring engagement for published content.
A business can schedule messages and discover social media analytics. The HubSpot tool is a comprehensive content marketing platform.
#4 Trap It
Trap It is among social selling and employee advocacy content marketing tools with which a business can sell products or services through social content and create a buyer journey process.
The tool enables to educate and engage the customers through every stage of the product purchase journey. Organising the social content of the company and using the tool's artificial intelligence to discover insights and trends is a simplified process.
#5 Rank Math
If you have a blog on the WordPress CMS, installing the Rank Math SEO plugin is essential.
In the last couple of years, Rank Math has become the topmost SEO solution for on-page SEO activities. On-page SEO is an unavoidable component of content marketing. It ranks in among top 3 of content marketing tools, along with Yoast SEO plugin.
#6 PRWeb
PRWeb is a syndication platform through which a business can distribute press releases informing about their products or services.
The search engine optimised press releases are shared with 250,000 opt-in news subscribers, 30,000 journalists and 3 million monthly website visitors.
It is easy to create the press release, distribute it through the platform and monitor the impact of the distributed press releases.
#7 Pocket
The selection of effective content marketing tools and strategies is based on resources employed to improve the marketing strategies.
Pocket is an app that allows the user to save articles, videos and other resources to view later. In addition, the app curates preferred information from apps like Zite, Flipboard, Twitter and 300+ other apps.
#8 PicMonkey
Add comical spin to content with the PicMonkey app.
Memes are a good marketing gimmick to create and share viral-worthy content. Check out some of the memes generated by the app and the kind of traction they gained on the web.
#9 Visual.ly
Content marketing isn't solely dependent on text.
Visual.ly helps to create stunning data visualisations through an infographic. The Visual.ly marketplace has designers and marketing experts to help with graphic designing.
The content marketing tools marketplace already hosts over 50,000 infographics. Infographic marketing is a growing trend in content marketing.
One can also explore PowToon to create animated videos and presentations.
#10 Skyword
If a business requires journalistic writing, Skyword can help.
They have an exclusive partnership with Thomson Reuters for business intelligence, an active marketplace of 20,000 professional writers and an alliance with Bigstock Imagery for stock images.
#11 Shareist
It is an editorial platform that helps with initiating and managing an entire content marketing lifecycle.
Shareist consists of tools that help businesses to create content embedded with images, videos and backlinks. The content piece can be exported for publication anywhere, such as email newsletters and eBooks.
#12 Welcome
If one wants pre-written copyright-free content ready for publication, check out Welcome.
The enterprise content marketing tool gives businesses access to 2,500 sources which include textual articles, videos and images to create a steady stream of publish-worthy content.
The business can buy the content directly from the platform, and the writer/company who wrote the content receives the payment directly.
#13 Outbrain
Creating quality content isn't enough if you don't have the right avenues to distribute the content for better visibility and engagement.
Outbrain focuses on content distribution for any content type – text, video, or infographic. What Outbrain does is partner with publication channels for promoting client content.
The publication channels are both local and international in nature.
#14 Clear Voice
Clear Voice is a workflow software with marketplace capabilities that gives businesses the ability to brand themselves via a collaboration between content creative providers and publishers.
They strategize a complete content marketing cycle and use their in-house content intelligence tools to manage a campaign.
#15 Harvest
Harvest is among time tracking content marketing tools that helps track the time spent on content creation and its marketing strategies and execution.
It helps the team to understand and evaluate the time spent on tasks and how the marketing process is shaping up.
#16 Trello
Trello is among wonderful networking and collaboration content marketing tools for the in-house team and remote teams.
One can organise everything from ideas to media or any other discussion, such as streamlining the content publication pipeline and receive real-time feedback on the content ideas to pursue.
Teams, internal and external, can come on board with Trello and discuss ideas.
#17 MailChimp
MailChimp is one of the oldest email marketing platforms.
If the business has a legitimately acquired email database, import the database to MailChimp to send emails containing newly published content pieces or engaging content marketing options like podcasts or webinar invites.
Endnote
There are tons of content marketing tools available in the market. These were our hand-picked tools that can jumpstart any content marketing campaign.